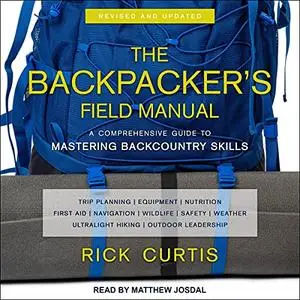 Rick Curtis, Matthew Josdal (Narrator), "The Backpacker's Field Manual, Revised and Updated: A Comprehensive Guide to Mastering Backcountry Skills"
English | ASIN: B09FYGQMYJ | 2021 | MP3@64 kbps | ~17:32:00 | 503 MB
When it was first published in 1998, The Backpacker's Field Manual set the standard for comprehensive backpacking books. Now exhaustively updated to offer a more complete view of backpacking today, it covers the latest developments in gear - such as Global Positioning Systems and ultralight hiking equipment - first aid, and Leave No Trace comping, and includes a chapter devoted to outdoor leadership resources and basics. Beginners and experienced hikers alike will find this book indispensable for trip planning strategies and also as a quick reference on the trail for:
Backcountry skills - how to forecast the weather, identify trees, bear-proof your campsite, wrap an injured ankle, and more
Tricks of the trail - time-tested practical lessons learned along the way
Going ultralight - downsizing suggestions for those who want to lighten up
Every traveler knows that space in a backpack is limited, so on your next trip, listen to the only guide you'll ever need - this one - and take to the great outdoors with confidence.
PLEASE NOTE: When you purchase this title, the accompanying PDF will be available in your Audible Library along with the audio.