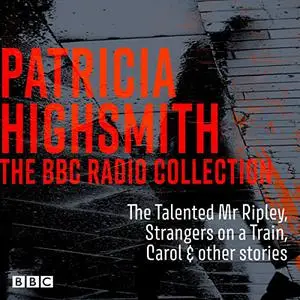 The Patricia Highsmith BBC Radio Collection: The Talented Mr Ripley, Strangers on a Train, Carol & Other Stories [Audiobook]
English | January 27, 2022 | ASIN: B09KCC1G5K | M4B@128 kbps | 15h 20m | 854 MB
Author: Patricia Highsmith | Narrators: Ian Hart, Anton Lesser, Michael Sheen, Saskia Reeves, Bill Nighy, Adrian Lester, Zoë Wanamaker, Mark Billingham, full cast, John Sharian
The definitive collection of dramatisations and readings of Patricia Highsmith's finest fiction - plus bonus material.
A master of the psychological crime genre, Patricia Highsmith is most famous for her quintet of best-selling Ripley novels, and her groundbreaking thriller Strangers on a Train (notably adapted as a classic film by Alfred Hitchcock). This extensive collection encompasses her best-known works, as well as selected short stories and three programmes about the author herself and her greatest creation, charismatic anti-hero Tom Ripley.
Included is a series of five plays charting Ripley's journey from smalltime conman to cool, calculated killer. Comprising The Talented Mr Ripley, Ripley Under Ground, Ripley's Game, The Boy Who Followed Ripley and Ripley Under Water, The Complete Ripley stars Ian Hart as Tom.
Also featured are dramatisations of Strangers on a Train (starring Anton Lesser, Michael Sheen, Saskia Reeves and Bill Nighy); Patricia Highsmith's compelling tale of obsession, The Cry of the Owl (starring John Tharian, Adrian Lester and Joanne McQuinn); and the dark, intriguing domestic noir ASuspension of Mercy (starring Stuart Milligan and Janet Maw).
Highsmith's tender, unsettling lesbian love story Carol is abridged and read in 10 parts by Zoë Wanamaker, and there are abridged readings of her short stories 'A Dangerous Hobby', 'Variations on a Game' (both read by Campbell Scott) and 'The Trouble with Mrs Blynn, the Trouble with the World' (read by Anna Massey). Five more unabridged stories, 'The Cries of Love', 'The Snail-Watcher', 'The Breeder', 'Notes from a Respectable Cockroach' and 'Goat Ride', are read by Helen Horton, John Webb, Garrick Hagon, William Hootkins and Crawford Logan.
In Looking for Ripley, crime writer Mark Billingham unravels the mystery behind our lasting fascination with Tom Ripley, while in A Passionate Affair, Marcel Berlins asks if his creator Patricia Highsmith also fell under his spell. And in Desert Island Discs, the author shares the soundtrack of her life with presenter Roy Plomley.
Contents:
The Talented Mr Ripley
Ripley Under Ground
Ripley's Game
The Boy Who Followed Ripley
Ripley Under Water
Strangers on a Train
The Cry of the Owl
A Suspension of Mercy
Carol
'A Dangerous Hobby'
'Variations on a Game'
'The Trouble with Mrs Blynn, The Trouble with the World'
'The Cries of Love'
'The Snail-Watcher'
'The Breeder'
'Notes from a Respectable Cockroach'
'Goat Ride'
Looking for Ripley
A Passionate Affair
Desert Island Discs: Patricia Highsmith