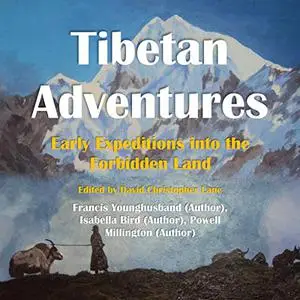 Tibetan Adventures: Early Expeditions into the Forbidden Land [Audiobook]
English | December 18, 2021 | ASIN: B09NQX2NS9 | M4B@128 kbps | 12h 55m | 704 MB
Editor: David Christopher Lane | Authors: Francis Younghusband, Isabella Bird, Powell Millington | Narrator: Francis C. LaPlante
The following is a selection from three books that were published in 1894, 1910, and 1905 respectively by early pioneers who ventured into Tibet. They are Among the Tibetans, India and Tibet, To Lhassa at Last. Although as Westerners their perspectives are culturally bounded (and too often myopic), they each write vividly and occasionally with great insight about what they experienced in their travels. Sadly, however, two of the narratives are militaristic and we witness an unwanted invasion on behalf of the British to gain controlling interest in the region.
Nevertheless, the listener will be enthralled by the many adventures that these writers underwent in their varying journeys and what Tibet must have looked like over a century ago before its takeover by the Chinese and its present-day modernization. Of particular interest are the lamaseries, the culture, the local people, and their habits. The city of Lhasa and the magnificent Potala where the Dalai Lamas used to reign provides a unique glimpse into a forgotten time and a long-forbidden land.