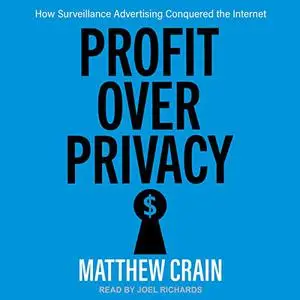 Profit over Privacy: How Surveillance Advertising Conquered the Internet
Author: Matthew Crain
Narrator: Joel Richards
English | 2022 | ASIN: B09VMRQ92L | MP3@64 kbps | 6h 52m | 185 MB
Profit over Privacy uses the 1990s as its backdrop to show how the massive data-collection infrastructure that undergirds the internet today is the result of twenty-five years of technical and political economic engineering. Crain considers the social causes and consequences of the internet's rapid embrace of consumer monitoring, detailing how advertisers and marketers adapted to the existential threat of the internet and marshaled venture capital to develop the now-ubiquitous business model called "surveillance advertising." He draws on a range of primary resources from government, industry, and the press and highlights the political roots of internet advertising to underscore the necessity of political solutions to reign in unaccountable commercial surveillance.