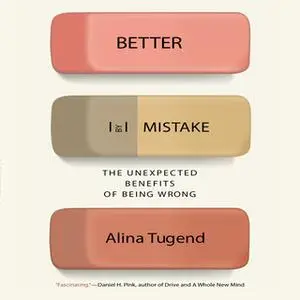 «Better by Mistake» by Alina Tugend
English | ISBN: 9781596597808 | MP3@64 kbps | 6h 59m | 192.0 MB
A New York Times columnist delivers an eye opening big idea: Embracing mistakes can make us smarter, healthier, and happier in every facet of our lives. In this persuasive audio book, journalist Alina Tugend examines the delicate tension between what we're told—we must make mistakes in order to learn—and the reality—we often get punished for making mistakes, and therefore try to avoid them or cover them up. In Better by Mistake, Tugend shows that mistakes are everywhere, and suggests that when we acknowledge and identify them correctly, we can improve not only ourselves, but our families, our work, and the world around us. Through fascinating research, Tugend reveals how trying to avoid mistakes can affect us from the earliest stages in our lives and shape us into adults who steer clear of risks and challenges. She takes us behind the scenes into cutting edge behavioral studies; invites us into the high stakes world of health care and aviation, where mistakes can cost lives, and delves into the art and science behind learning how to craft a sincere apology and accepting responsibility for mistakes. Bold and dynamic, insightful and provocative, Better by Mistake turns our cultural wisdom on its head to illustrate the downside of striving for perfection, and the rewards of acknowledging mistakes and embracing the imperfection in all of us.