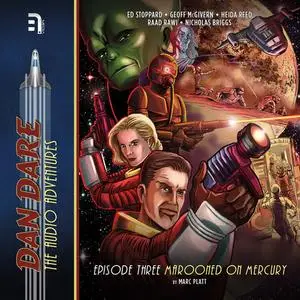 «Dan Dare: Marooned on Mercury» by Marc Platt
English | MP3@192 kbps | 1h 03m | 86.9 MB
When a distress call summons the crew of the Anastasia to the burning wilderness of Mercury, they are reunited with their old ally, Sondar. He tells them of the beleaguered Mercurians who are held in thrall to a cruel new taskmaster - the Mekon! The exiled Mekon is rallying his forces, plotting a desperate revenge against his former homeworld of Venus and his hated enemy, Colonel Dan Dare!
Audio dramatisation based on the Eagle Comic strip 'Dan Dare' created by Rev. Marcus Morris and Frank Hampson.
Dan Dare: The Audio Adventures © B7 Enterprises Limited 2017. All rights reserved.
Dan Dare TM © Dan Dare Corporation Limited 2017. All rights reserved. Dan Dare word mark and logo are trademarks of the Dan Dare Corporation Limited and are used under license. The moral right of the Dan Dare Corporation Limited and B7 Enterprises Limited to be identified as having paternity of this work has been asserted.
All characters in this production are fictitious and any resemblance to real persons, living or dead, is purely coincidental. All rights of the manufacturer and owner of the recorded work reserved. Unauthorised public performance, broadcasting and copying of these digital recordings is prohibited.