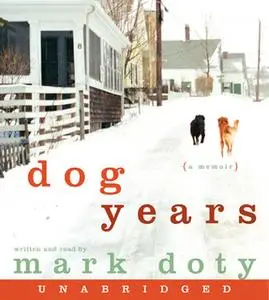 «Dog Years» by Mark Doty
English | ISBN: 9780061262517 | MP3@64 kbps | 6h 14m | 171.6 MB
Why do dogs speak so profoundly to our inner lives? When Mark Doty decides to adopt a dog as a companion for his dying partner, he finds himself bringing home Beau, a large golden retriever, malnourished and in need of loving care. Beau joins Arden, the black retriever, to complete their family. As Beau bounds back into life, the two dogs become Mark Doty's intimate companions, his solace, and eventually the very life force that keeps him from abandoning all hope during the darkest days. Their tenacity, loyalty, and love inspire him when all else fails.
Dog Years is a remarkable book: a moving and intimate memoir interwoven with profound reflections on our feelings for animals and the lessons they teach us about life, love, and loss. Mark Doty writes about the heart-wrenching vulnerability of dogs, the positive energy and joy they bring, and the gift they bear us of unconditional love. A book unlike any other, Mark Doty's surprising meditation is radiantly unsentimental yet profoundly affecting. Beautifully written, Dog Years is a classic in the making.