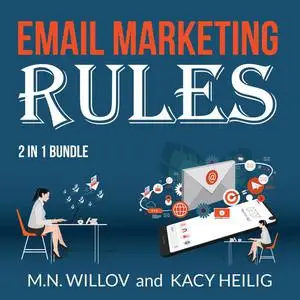 «Email Marketing Rules Bundle: 2 in 1 Bundle, Email Marketing Success and Email Marketing Tips» by Kacy Heilig, M. N Willov
English | MP3@192 kbps | 1h 35m | 131.7 MB
Email Marketing Rules Bundle: 2 in 1Bundle, Email Marketing Success and EmailMarketing TipsWhen it comes to marketing strategies, email marketing has become one of the mostpopular forms of advertising or marketing. One of the best things about this is beingable to communicate with a global audience with minimal effort or expenses involved.Studies show that the number of active email users is forecasted to reach 4.3 billion in2023. There are 293.6 billion emails sent and received each day. Most people checktheir emails at least once a day because they are able to do it on their smartphones.Emails are basically at the tips of our fingertips every day and that is why this is such aneffective form of marketing strategy.Email will continue to be the main point of communication on the internet so it isimportant to take advantage of it and create effective email marketing strategies to helpyour business succeed. This bundle will teach you all the best practices and effectivestrategies for a successful email marketing campaign that will help your business growand succeed.This 2 in 1 bundle series includes the following audiobooks:1. Email Marketing Success: The Ultimate Guide to Building a Successful EmailMarketing Campaign, Learn How to Build an Email List That Converts2. Email Marketing Tips: The Complete Guide on Email Marketing Techniques,Learn The Secrets and Tips on How You Can Build An Extensive Mailing ListThat Is Guaranteed to Generate SalesGet your copy of the Email Marketing Rules 2 in 1 Bundle today!