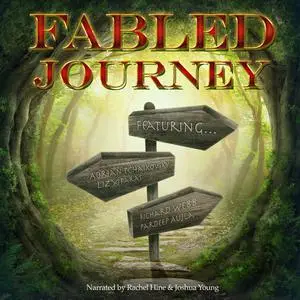 «Fabled Journey» by Richard Webb, Adrian Tchaikovsky, Elizabeth Xifaras, Pardeep Aujla
English | MP3@192 kbps | 1h 43m | 142.0 MB
This collection of fantasy short stories are from the three winners of Remastered Words 2016 audio anthology, including a tale from one of our judges, Adrian Tchaikovsky with 'The Groppler's Harvest' which was first published in the British Fantasy Society's 2013 anthology. Listen as our bards regale you with treacherous journeys and fables worthy of the smallest campfire to the most renowned taverns, where sometimes only the ultimate price is enough. So charge your tankards, goblets and mugs, sit back and enjoy a fabled journey or two.
Here's what some of our judges had to say:
"A villain thrust into the role of hero and warriors forced to face the ultimate consequences of their actions. Remastered Words is an anthology full of surprises, twists, and imaginative stories." - Sebastien de Castell
"Unsung was marvellous fun, with a terribly engaging character who I really hope effects an amazing last minute escape after the last line. The sort of story that reminds me of why I love fantasy." - LM Myles
"The Weight on your Shoulder was genuinely creepy and visceral; a nice, punchy story written with elegant, spare prose. I'm generally all about the positive with spiders and the like but this was really good." - Adrian Tchaikovsky
"There is a way of crafting characters where the author offers just enough of the right words to frame the essence and invites the reader to fill in the rest. The author of A God's Mercy demonstrated that talent and it was a delight. The characters were authentic and their circumstances served beautifully to illuminate them. The pacing was excellent, a languid tension punctuated with moments that eloquently added to the story rather than distracted. Really enjoyed this one." - Dave Robison, Founder & Host of The Roundtable Podcast
©2016 Remastered Words