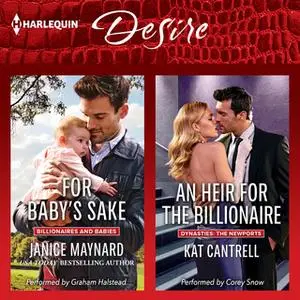 «For Baby's Sake & An Heir for the Billionaire» by Janice Maynard,Kat Cantrell
English | ISBN: 9781488202124 | MP3@64 kbps | 9h 35m | 263.3 MB
For Baby's Sake
His ex inherited a baby—and she needs his help! Only from USA TODAY bestselling author Janice Maynard!
James Kavanagh is rich and sexy as sin, but his workaholic neighbor Lila Baxter has been there, done that—and has the heartbreak to prove it. They've avoided each other since their affair ended, but now she's brought home a baby.
He's clearly the last man Lila wants to ask for help. But she knows nothing about babies, and James is a born family man. When one offer of help leads to another, they're soon under the same roof. Almost like a real family. Suddenly the heat they've ignored is ready to ignite!
An Heir for the Billionaire
Will a single mom and her baby become an instant family for this all-business tycoon?
After learning her billionaire father is dying, Nora Winchester O'Malley rushes to his bedside in Chicago—and right into an old friend's arms. Reid Chamberlain is there to comfort the young widowed mom when she needs it most. But what passes between them isn't mere compassion…it's sheer passion.
Reid has been all business for so long, shutting down his emotions as he built up his hotel empire. Now Nora and her adorable child have come along, stirring up demons he must face to have a shot at a future…