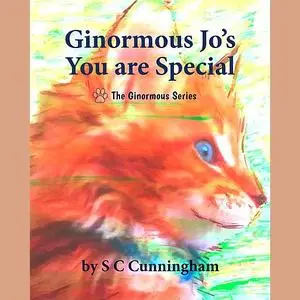 «Ginormous Jo's You Are Special» by S.C. Cunningham
English | MP3@192 kbps | 09 min | 13.7 MB
Ever wish you could ask someone the big life questions?
Tom and Vincent have a full list for their friend, Ginormous Jo. Being in a unique family of three dogs and a kitten, they are all the best of friends. Tom, a little white dog and Vincent, a small kitten, play quietly in the backyard until they start asking questions about life. Are they special? Why do they feel they don't fit in?
They come up with a list to ask Ginormous Jo, the friendly senior dog in the house. She takes the two to heart and listens to their questions. The answers might be astonishing to the pair, but they are an excellent example of how you can learn from those wiser than yourself. But the important thing, of course, is they asked for help from an elder. She teaches them how they are already special. And that through recycling, they can help save the whole world!
This darling little picture book continues the Ginormous Jo serious stressing the importance of asking questions and being honest with your elders. It helps model how children should feel free to express their feelings to loved ones older than them, and follow the advice. It stresses how anyone can be special by their personal effort to better the world.
This is a great book for any children's library especially as a gift from a grandparent or older sibling.
THE GINORMOUS SERIES
Through The Ginormous Series children learn how to communicate their problems and work through their feelings. This loving, cuddly, engaging collection of children's books follows pets discussing their 'life handling' problems and how they solve them together. A great addition to any child's home collection or teacher's read-aloud library. Encouraging thought-provoking conversation between adult and child.
AUTHOR S C CUNNINGHAM
Owned by 3 dogs and a cat, S C Cunningham normally writes suspense thrillers. As respite from her crime novels, she creates children's picture books, each with a theme to gently teach our precious young, and help start thought-provoking conversations between adult and child. The Ginormous Series is based on Cunningham's beloved family pets – Joe, Muttley, Dali (Jo), Tom and Vinnie.
REVIEWS
"This was the cutest book that touched my heart. The author did an outstanding job, I enjoyed it and I think that any child would love this story too." 4*
"Hooray for Ginormous Joe! What a great story. Pure love really does have redeeming/transforming properties doesn't it? I want to meet Ginormous Joe and give him a great big hug. Gorgeous illustrations!" 5*
"A lesson in life for us all. I shall remember liswat. I know a beautiful large white dog just like Jo who listens and watches." 5*
"So real. Fires the imagination - makes you look at animals in a different light - waiting for books 3 and 4" 5*