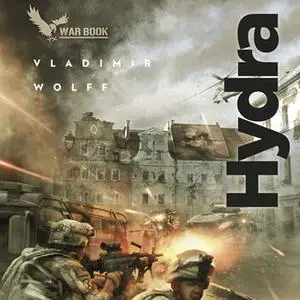 «Hydra» by Vladimir Wolff
Polski | ISBN: 9788364523977 | MP3@64 kbps | 12h 57m | 355.7 MB
Amerykę unicestwił zabójczy wirus. Rosja drży w posadach, a jedność europejska utonęła w fali uchodźców…
Polska przejęła europejskie struktury wojskowe USA i niemal z dnia na dzień stała się supermocarstwem.
Przybywa jej także wrogów, a niespodziewany, nadchodzący atak może pogrzebać nasze wielkie plany.
– Może się w końcu dowiem, co to za najście? Jak na razie żyjemy w demokratycznym państwie i takie incydenty nie powinny mieć miejsca. – Marszałek senatu RP był wściekły.
– Niech pan włączy telewizor. – Szczepańska nie zamierzała opowiadać wszystkiego.
– Słucham?
– Telewizor.
Bielawa posłusznie powędrował do salonu i uruchomił odbiornik. Na wszystkich kanałach zobaczyli to samo – dym nad Krakowskim Przedmieściem, formujący się kordon, rozbite samochody, wozy służb porządkowych uformowane w długie kolumny na centralnych ulicach Warszawy, para dyżurnych F-16 zataczająca kręgi nad miastem, Humvee stołecznego garnizonu.
– Jezus Maria… – jęknął wstrząśnięty marszałek.
– Zgadzam się całkowicie.
– Wybuchła wojna?
– Można tak powiedzieć…
Śmiałe i jakże często prorocze wizje Vladimira Wolffa przerażają jak nigdy dotąd. Czy zasługujący na miano wieszcza autor tym razem się myli? Z tą nadzieją oddajemy Państwu w ręce jego najnowszą powieść. Wolff otworzył "Metalową burzą" nowy cykl – Armagedon. "Hydrą" otwiera puszkę Pandory!