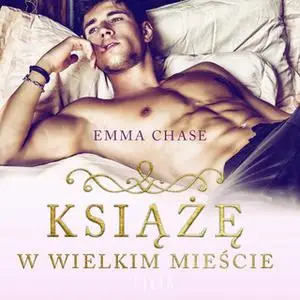 «Książę w wielkim mieście» by Emma Chase
Polski | ISBN: 9788380757288 | MP3@64 kbps | 9h 51m | 270.8 MB
"Nicholas Arthur Frederick Edward Pembrook, następca tronu Wessco, znany też jako Jego Seksowna Mość, jest niebywale czarujący, okrutnie przystojny i bezwstydnie arogancki – chociaż o to nietrudno, kiedy wszyscy kłaniają mu się w pas.
Jednak pewnego śnieżnego wieczoru na Manhattanie książę poznaje piękną brunetkę, która nie postępuje jak reszta kobiet. Zamiast dygać, rzuca mu ciastem w twarz.
Nicholas pragnie dowiedzieć się, czy dziewczyna jest tak dobra jak jej wypiek. A królewski potomek przyzwyczajony jest, by dostawać wszystko, czego zapragnie.
Olivia Hammond nigdy nie marzyła, by spotykać się z księciem.
Królowa nie aprobuje szalenie nieodpowiednich wybryków dziedzica, nieustępliwi paparazzi ich śledzą, a opinia publiczna ocenia każdy krok. Choć rodzina królewska zmieniła karety na rolls-royce'y i już dawno nie ścięto nikomu głowy, to ich członkowie nie są skłonni zaakceptować zwykłej, przeciętnej dziewczyny.
Jednak dla Olivii młody mężczyzna wart jest wysiłku.
Cały świat przyglądał się dorastaniu księcia, a w tej chwili wszyscy czekają na królewski ożenek. Przychodzi jednak chwila, gdy Nicholas musi zdecydować kim jest i, co ważniejsze, kim chce być.
Królem… czy mężczyzną na zawsze zakochanym w Olivii."