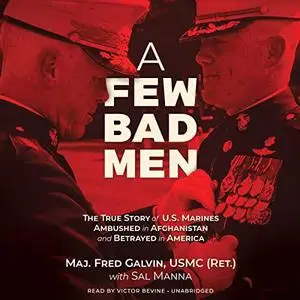 A Few Bad Men: The True Story of US Marines Ambushed in Afghanistan and Betrayed in America
by Major Fred Galvin USMC (Ret.), Sal Manna
2022 | English | ASIN: B09VW8Z7R1 | 8 hrs 11 mins | M4B & MP3@126 kbps | 492 to 498 MB | UBR | Retail
Narrator: Victor Bevine
Ambushed in Afghanistan and betrayed by their own leaders, these elite Marines fought for their lives again, back home.
A cross between A Few Good Men and American Sniper, this is the true story of an elite Marine special operations unit bombed by an IED and shot at during an Afghanistan ambush. The Marine Commandos were falsely accused of gunning down innocent Afghan civilians following the ambush. The unit's leader, Major Fred Galvin, was summarily relieved of duty, and his unit was booted from the combat zone. They were condemned by everyone, from the Afghan president to American generals. When Fox Company returned to America, Galvin and his captain were the targets of the first Court of Inquiry in the Marines in fifty years.