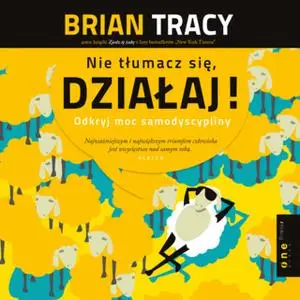 «Nie tłumacz się, działaj! Odkryj moc samodyscypliny» by Brian Tracy
Polski | ISBN: 9788328327450 | MP3@64 kbps | 7h 27m | 204.8 MB
Pomyśl o swoim celu w życiu. Czy chciałbyś zarabiać dwa razy więcej? Spłacić kredyt? A może schudnąć? Zapewne nie tylko tego pragniesz, ale nawet wiesz, co musisz zrobić, żeby to osiągnąć. I planujesz to zrobić… kiedyś. Jednak zanim się do tego faktycznie weźmiesz, dochodzisz do wniosku, że należy Ci się krótki wypad w wyimaginowane miejsce, zwane wyspą Kiedyś.
Natomiast pierwsza zasada sukcesu jest bardzo prosta: wydostań się z wyspy! Przestań szukać wymówek! Zrób to, co masz zrobić, albo tego nie rób, ale przestań się tłumaczyć. Nie używaj już swojego wspaniałego umysłu do wymyślania zawiłych wykrętów i usprawiedliwień. Zrób coś. Cokolwiek. No już! Powtarzaj sobie: "To, co się stanie, zależy ode mnie!".
Niniejsza książka pokaże Ci, jak — krok po kroku — stać się nadzwyczajną osobą, zdolną do nadzwyczajnych dokonań. Samodyscyplina jest czynnikiem, dzięki któremu można wydostać się z wyspy. Stanowi ona klucz do wspaniałego życia, bez którego nie sposób osiągnąć żadnego trwałego sukcesu. Każdy z dwudziestu jeden rozdziałów podaje metody i praktyczne ćwiczenia zwiększania samodyscypliny w wybranej sferze Twojego życia:
prywatnej – uświadomi Ci, że to Ty jesteś odpowiedzialny za swój sukces, i pokaże, iż wytrwałość naprawdę przynosi efekty;
biznesowej i finansowej – staniesz się lepszym przywódcą i menedżerem, będziesz lepiej zarabiać, poprawisz organizację czasu i umiejętność rozwiązywania problemów;
szczęścia życiowego – staniesz się szczęśliwszy, zdrowszy i bardziej wysportowany.