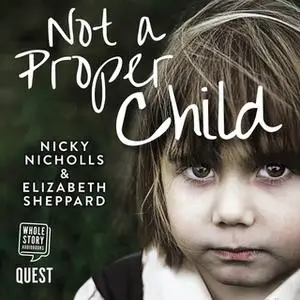 «Not a Proper Child» by Nicky Nicholls,Elizabeth Sheppard
English | ISBN: 9781528856669 | MP3@64 kbps | 9h 12m | 253.1 MB
The dark true story about the exceptional Nicky Nicholls and her struggle to survive a bleak and abusive young life.
Left as a newborn in a box outside Stoke City Football ground, her grandparents took her into their home. But instead of finding a sanctuary, Nicky was subjected to horrific sexual abuse throughout her childhood. In 1951, when Nicky was six years old, her glamorous-looking estranged mother arrived on the doorstep to 'rescue' her. But Nicky's hopes of a safe and loving family were very soon smashed, and her world became darker still.
Now an internationally renowned London artist, hers is a compelling story, carried along by her rare spirit of survival against the odds. This book details an extraordinary woman's rise from the horror of a deeply damaging childhood to a new, creative and independent life. Her story is one of hope, for herself and for other abused children.