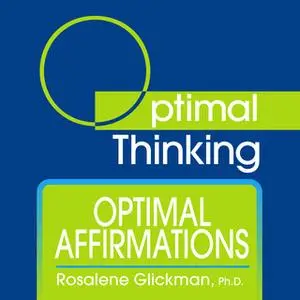 «Optimal Affirmations» by Rosalene Glickman (Ph.D.)
English | ISBN: 9781596594821 | MP3@64 kbps | 1h 11m | 32.5 MB
Dr. Rosalene Glickman, international best selling author of Optimal Thinking, provides you with Optimal Affirmations to prepare you to reach your most desired goals. Optimal Affirmations are first person, present tense, Optimal statements you immerse in your mind to prepare you to experience the best results. They are Optimal 'act as if' statements. By giving yourself the best preview, your desired result becomes real and concrete. You prepare yourself to consistently be your best and enjoy the best life has to offer. You adjust yourself toward having what you most want by incorporating it physically, emotionally, and mentally. This Optimal Affirmations audio book has been arranged in two parts. You can hear all the content in the first part. In the second part, the content is subliminal. You will only hear the peaceful sounds of the ocean. Each part contains Optimal Affirmations in 11 categories: • Optimal Thinking • Core Beliefs • Self Esteem • The Body • The Mind • Social Affirmations • Purpose • Planning • Feelings • Communications • Work The Optimal Affirmations audio program provides you with an optimal mental resource to make the most of your life. NOTE: During this program, you will uncover obstacles that are impeding your progress. You can then make changes to best resolve these unsupportive issues. Optimal Thinking is optimal realism. It is NOT wishful thinking!