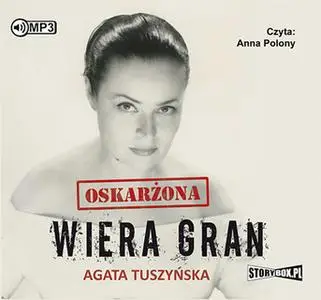 «Oskarżona - Wiera Gran» by Agata Tuszyńska
Polski | ISBN: 9788379273362 | MP3@64 kbps | 12h 09m | 333.7 MB
Piękna, utalentowana, obdarzona charakterystycznym, głębokim kontraltem. Jej piosenki o najróżniejszych barwach miłości kochali wszyscy. Wiera Gran była najpopularniejszą żydowską pieśniarką w końcu lat 30. W czasie wojny występowała w lokalach warszawskiego getta. Aż zdarzyło się coś, co przekreśliło jej karierę na zawsze – oskarżenie o współpracę z niemieckim okupantem. Do końca życia próbowała oczyścić swoje imię, walcząc z piętnem kolaborantki. "Oskarżona: Wiera Gran" to nie tylko biografia. To próba rozliczenia się z przeszłością.