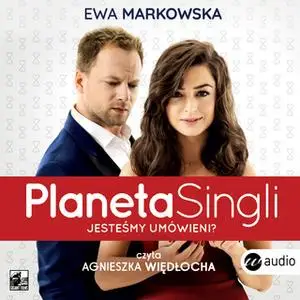 «Planeta singli 1» by Ewa Markowska
Polski | ISBN: 9788380323131 | MP3@64 kbps | 9h 45m | 268.2 MB
Ania to niepoprawna romantyczka. Kocha dobre kino, klasyczne sukienki, pielęgnuje pamiątki z dzieciństwa i jak może, chroni się przed brutalnym światem cyników i kolekcjonerów kobiecych serc. Kiedyś marzyła o międzynarodowej karierze muzycznej, ale jej plany pokrzyżowała tragiczna śmierć taty. Od tamtej pory próbuje wychowywać matkę w dojrzałym wieku i otacza ją troskliwą opieką. Uczy w szkole muzyki, staje na głowie, żeby przybliżyć dzieciom magiczny świat dźwięków i wyczarować pieniądze na nowe pianino. Nie przestaje jednak wierzyć w prawdziwą miłość i księcia na białym koniu. A że cel uświęca środku, decyduje się na założenie profilu w portalu randkowym Planeta Singli. Nie zamierza odpuszczać - tym bardziej, że zbliża się do trzydziestki.
Na początku idzie jak po grudzie: na pierwszą randkę absztyfikant się nie stawia, Ania poznaje za to gwiazdę telewizji - bezczelnego, zakochanego w sobie Tomka Wilczyńskiego. Wszyscy wiedzą, że czerpie on radość z kolejnych przygód, ale to nie przeszkadza tysiącom fanek wzdychać do niego. Ania nie poddaje się jego urokowi. Wilczyński proponuje więc jej układ – ona będzie mu opowiadała o nieudanych randkach, a on będzie wykorzystywał jej przygody w swoim telewizyjnym show.
Książka powstała na podstawie scenariusza do filmu Planeta singli w reżyserii Mitji Okorna.