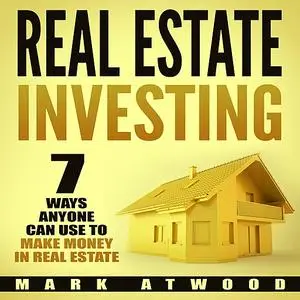 «Real Estate Investing: 7 Ways ANYONE Can Use To Make Money In Real Estate» by Mark Atwood
English | MP3@192 kbps | 45 min | 62.9 MB
Are you interested in raising your income without much effort? How would it feel to make thousands of dollars every month with a few simple investments? Real Estate Investing: 7 Ways ANYONE Can Use To Make Money In Real Estate (2018)
Investing in real estate is by far one of the most profitable and evergreen ways of making money without putting in much effort into it. In fact, having a few well-chosen real estate investments in your portfolio could generate a high monthly income for decades with just a tiny bit of maintenance work. What this would mean is that YOU would earn money every month without having to actually have a day job. This is also known as passive income. 
In this book, we present 7 very profitable ways that ANYONE can use to make money in real estate. These ways are all proven to work and can be pursued by the majority of the population (even if you're a bit lazy). Please note that we do not go in-depth on all of the methods presented in this book. This book was created to give you useful investment ideas that you can actually pursue. 
Although real estate investments can provide a steady cash flow for decades, there's still a possibility that you can lose your hard-earn money if you're doing it wrong. The common mistake among new investor is that they think that they know it all. Real estate investing is not something you can do tonight and earn millions tomorrow. It takes time and effort to become a successful investor. The major factor causing you and anyone else to lose money when investing is lack of knowledge. What you need to do it to take the time to learn and do the necessary research. Once you have equipped yourself with facts, you are ready to go! This is not something that's only relevant to real estate investing. No matter what you put your money on, whether it's stocks, funds, cryptocurrencies or properties, you need to know what you're doing or else you're going to fail. Investing without having a clue about what you're putting your money into is not even considered investing. That is known as gambling and that is also your number one key to becoming broke and miserable. 
Invest in yourself today and grab yourself a brand new copy of this book!
What's In It For You When You Download ''Real Estate Investing'' Today!
Ways To Make Money In Real EstateTips For Long-term Wealth ManagementHow To Invest In Real Estate Rental Properties, Flipping Houses, Vacation Rentals etc.Questions To Ask Yourself When Investing In Real EstateMuch, much more!Note: This book on real estate investing is no get-rich-quick scheme! No matter what field of work you are in, creating wealth takes time and effort. This book, however, guides you through proven strategies that are guaranteed to work!
Series: Real Estate Investing, Real Estate Investing For Beginners, Passive Income Real Estate, Make Money, Real Estate Books, Real Estate Investing Basics, Investing In Real Estate, Real Estate Investing, Real Estate Investing For Beginners, Passive Income Real Estate, Make Money, Real Estate Books,