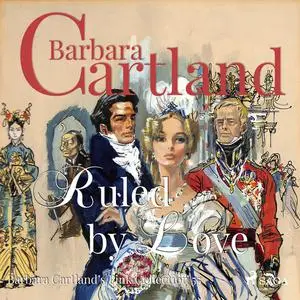 «Ruled By Love» by Barbara Cartland
English | MP3@192 kbps | 3h 51m | 318.0 MB
1820 is a worrying time for His Royal Highness Prince Lászlé as the might of the Prussian Empire moves ever closer to the boarders of his independent principality, Opava. Concerned for the welfare and happiness of his subjects, he reluctantly sends his beautiful daughter, Princess Zoleka, on a secret mission to the neighbouring state of Krnov, which is in crisis. Masquerading as Lady in Waiting to Princess Udele, the heir to the throne, Zoleka is horrified to discover that Krnov is in political turmoil. Greeted by demotivated palace staff, shocked by the dilapidated buildings and poverty throughout the principality, Zoleka vows to discover the strange malady that has struck the head of state, Prince Majmir, and restore Udele to her rightful place. Discovering that Princess Udele, although she is eighteen, is kept away from state matters and still treated like a child, Zoleka decides to teach Udele the skills necessary to be a Princess so she can gain the respect of the people and help Krnov become strong again. But has Princess Zoleka arrived too late to stir the Royal Place into action and stop the ever increasing danger from the Prussian Army?Barbara Cartland was the world's most prolific novelist who wrote an amazing 723 books in her lifetime, of which no less than 644 were romantic novels with worldwide sales of over 1 billion copies and her books were translated into 36 different languages. As well as romantic novels, she wrote historical biographies, 6 autobiographies, theatrical plays and books of advice on life, love, vitamins and cookery. She wrote her first book at the age of 21 and it was called Jigsaw. It became an immediate bestseller and sold 100,000 copies in hardback in England and all over Europe in translation. Between the ages of 77 and 97 she increased her output and wrote an incredible 400 romances as the demand for her romances was so strong all over the world. She wrote her last book at the age of 97 and it was entitled perhaps prophetically The Way to Heaven. Her books have always been immensely popular in the United States where in 1976 her current books were at numbers 1 & 2 in the B. Dalton bestsellers list, a feat never achieved before or since by any author. Barbara Cartland became a legend in her own lifetime and will be best remembered for her wonderful romantic novels so loved by her millions of readers throughout the world, who have always collected her books to read again and again, especially when they feel miserable or depressed. Her books will always be treasured for their moral message, her pure and innocent heroines, her handsome and dashing heroes, her blissful happy endings and above all for her belief that the power of love is more important than anything else in everyone's life."