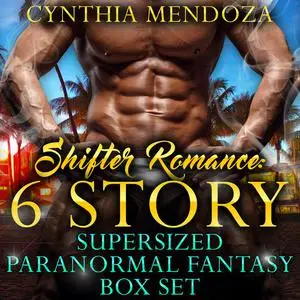 «Shifter Romance: 6 Story Super-sized Paranormal Fantasy Box Set (Dragon Shifter, Wolf Shifter, Bear Shifter, Gorilla Shifter, Lion Shifter Collection)» by Cynthia Mendoza
English | MP3@192 kbps | 12h 28m | 1028.5 MB
Are you ready for the dripping wet ride of your life? Look no further! This super-sized shapeshifter romance collection will have you craving to turn the pages!
***WARNING: 18+ Audiences Only!***
This massive box set includes the following stories and series:
**Menage: Addicted to The Billionaire Dragon
**Billionaire Bear 4 Part Box Set
Prologue: Sleeping with The Enemy
Part One: Secret Agent Passion
Part Two: In Too Deep
Part Three: Dangerous Lust
**Dragon King 2 Part Dragon Shifter Box Set
Part One: Undercover Seduction
Part Two: Flirting with Danger
**Gorilla Passion 2 Part Gorilla Shifter Box Set
Part One: Primal Craving
Part Two: Dirty Secrets
**Shifter Underworld 4 Part Wolf Box Set
Prologue: The Late Night Escort
Part One: Secrets in The Bedroom
Part Two: Craving the Alpha Wolf
Part Three: Climax for The Client
**Menage: Dirty for The Lions
**For individual book descriptions, please search the book title in the search bar!**
Are you ready to try something a little more "alpha" than you're used to? Find out if you're up to the task when you buy your copy of this huge box set today!