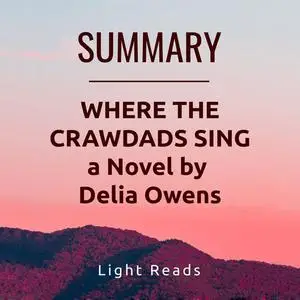 «Summary: Where the Crawdads Sing a Novel by Delia Owens» by Light Reads
English | MP3@192 kbps | 1h 08m | 94.5 MB
The Summary of Where the Crawdads Sing A Novel by Delia Owens is the perfect answer to your literary problems. Instead of having to sit down with the actual best-seller, you can find out all of the major details of the book right here! Your next book club meeting will have you standing out as the star of the show because you will know all about Where the Crawdads Sing!
Yes, this is a summary, not the actual novel. However, this summary contains major plotlines and details, telling the entire story in a quick, concise manner without losing any steam!
Learn why the main character is called the Marsh Girl!Discover a beautiful coming-of-age story without all of the unnecessary information included in the actual novel!Find out the answer to the biggest mystery in the story!All of this information and much more lies within this book, so don't be shy – buy it now! Who really has time to sit down and read hundreds and hundreds of pages in a novel? Not when you can get the heart of the story right here, in less than 40 pages! Enjoy, and please check out our other summary books coming soon!
Disclaimer: This is a summary and not the original book.