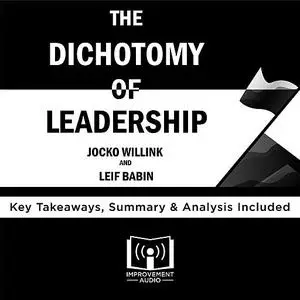 «The Dichotomy of Leadership by Jocko Willink and Leif Babin» by Improvement Audio
English | MP3@192 kbps | 52 min | 72.8 MB
Learn how you can apply the main lessons & principles from The Dichotomy of Leadership in a quick, easy listen!In this second book written by Jocko Willink and Leif Babin, they explore several different areas that are challenging as a leader, The Dichotomy of Leadership. It requires for a leader to find balance between opposite forces. They use their knowledge of leadership in their military careers to help businesses succeed. This book can be read along with their first book, Extreme Ownership, to help leaders find balance in the workplace, learn how to lead effectively, and receive the highest goal, which is victory.This audio captures the key takeaways found in the original book. All fluff and unnecessary information has been removed to save you hours of time. If you've already read the original, this audio will help you cement the most important lessons. If you haven't, don't worry, here you will find all the practical information that you can apply.