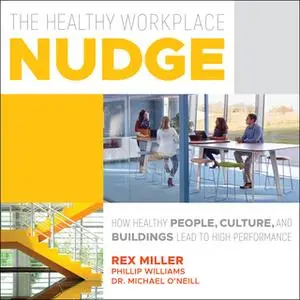 «The Healthy Workplace Nudge» by Michael O'Neill,Rex Miller,Phillip Williams
English | ISBN: 9781469098722 | MP3@64 kbps | 8h 45m | 240.4 MB
Organizations and employees now spend an average of eighteen thousand dollars per year per employee for health costs, a sixty one percent increase in ten years. These are direct costs, but the hidden costs of time out of the office, distraction, disengagement, and turnover far exceed the direct costs. The Healthy Workplace Nudge explains the findings of research on 100 large organizations that have tackled the problems of employee health costs and disengagement in four fresh ways:
1. Happiness leads to health and performance
2. Behavioral economics to nudge healthy employee behavior
3. Healthy culture
4. Healthy buildings
In addition to proving highly effective, these approaches represent a fraction of the cost sunk into traditional wellness and engagement programs. The book explains how to create a workplace that is good for people, releases them to what they do best and enjoy most, and produces great and profitable work.
- Find actionable strategies and tactics you can put into use today
- Retain happy, productive talent
- Cut unnecessary spending and boost your bottom line
- Benefit from real-world research and proven practice