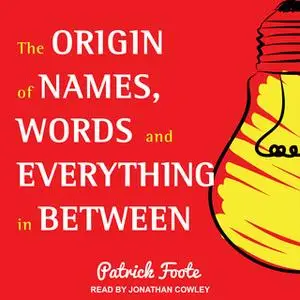 «The Origin of Names, Words and Everything in Between» by Patrick Foote
English | ISBN: 9781977334299 | MP3@64 kbps | 5h 01m | 138.1 MB
The Origins of Names Explained
Explore the world of names: What is something that literally everything in existence has in common? It all has a name! With Name Explain, you can learn the origins of these names. From countries and cities to toys and animals to even planets, learn the etymology of interesting words in a fun and entertaining way.
Learn new things: Why is New York called New York? Name Explain has the answer for you. While author Patrick Foote, of the YouTube channel also called Name Explain, doesn't claim to know everything, he has garnered a lot of knowledge about language over the years and he's excited to get to share it with you in this new format.
Be entertained by education: Learning doesn't have to be boring. With his fun sense of humor, Patrick explains each name with jokes and quips you're bound to enjoy. Packed with great information, Name Explain has a variety of topics that are bound to intrigue anyone interested in the origins of the words we use every day.
Find fun facts: Name Explain is full of interesting facts that are great to keep in your mental pocket. You'll be able to pull out fun information about words and language all the time, informing and amusing yourself and your friends for ages.
Name Explain does exactly what it says it does-it explains names in a fun and easy-to-digest way. After listening to this book, you will
- Know why, exactly, Russia is called Russia
- Be able to entertain yourself and your friends with interesting fun facts
- Discover the origins of the names of planets, animals, countries, and much more