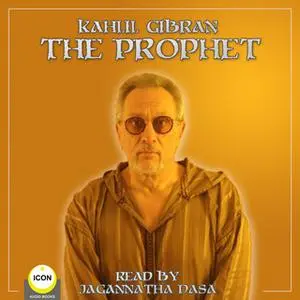 «The Prophet» by Kahill Gibran
English | ISBN: 9781982739539 | MP3@64 kbps | 1h 30m | 41.3 MB
"One day you will ask me which is more important? My life or yours? I will say mine and you will walk away not knowing you are my life."
"Beauty is eternity gazing at itself in a mirror. But you are eternity and you are the mirror." KAHLIL GIBRAN
The Prophet is a book of twenty six simple prose fables written in by the fabled Lebanese-American poet and writer Kahlil Gibran. It was originally published in 1923 by Alfred A. Knopf and is Gibran's best known work. Gibran was born on January 6, 1883 in Bsharri, Lebanon. He later immigrated with his mother and siblings to Boston in 1895.
Gibran would return to Lebanon three years later to continue his education but returned once again to America after illness took the life of one of his beloved sisters. Gibran's works, written in both Arabic and English, are full of lyrical outpourings and express his deeply religious and mystical nature. Gibran died in New York City on April 10, 1931. In this beautifully read and soulfully interpreted version of the classic book, Dasa summons up a thoroughly convincing, inspirational, spiritual experience for the open hearted listener. An absolute must have audio experience for all those interested in the reality of the spirit, developing a higher consciousness, the study of eastern philosophy, and even simply the curious commuter. A gift given from heart to heart - the great words of the Prophet will live forever.
JAGANNATHA DASA is the author of thirty two internationally best selling books published by the biggest publishers in the world from 1984 until today. He is also an acclaimed Hollywood film actor, director, designer, and is the voice on over 500 popular audiobooks.
Series producer Avalon Giuliano in New York
Produced by Alex Franchi in Milan
Edited and mixed by Macc Kay in Bangkok
ICON intern Eden Garret Giuliano