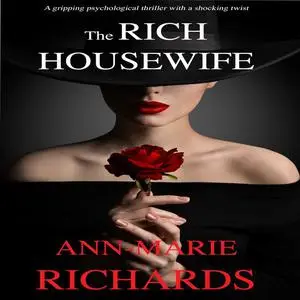 «The Rich Housewife (A gripping psychological thriller with a shocking twist)» by Ann-Marie Richards
English | MP3@192 kbps | 5h 16m | 434.6 MB
"Delicious read! Wow! Mind-blowing twist at the end!…Loved this story!
A great book to escape reality!" –5-Star Review on Goodreads"Lots of surprises and twists. Worth the read." –5-Star Review on Kobo"Talk about surprises and twists!" – 5-Star Review on Amazon
Some people will stop at nothing to get what they want…
Formerly homeless hustler Bianca Thomson-Wingarden had it all planned out. She found a rich man to get her pregnant and marry so she could give her child a lavish life of financial security she'd carefully prepared for.
She and her new husband Elvin Wingarden III, heir to the Wingarden billion-dollar dynasty, have the perfect life. They split their time between their upscale condo in the city and their lavish 17-bedroom mansion in the country. They drive the latest luxury vehicles. They don't have to worry about money and she can shower their daughter Evie, their little dog, and their friends with everything they desire. 
The trouble is, their perfect life is about to fall apart. Elvin is no longer the charming man she married. And when Elvin's mother decides to hire the mysterious Penny as a live-in nanny to help take care of little Evie, everything starts going wrong in Bianca's life. She gets a terrible suspicion that the new nanny is there to replace her. And why does that nanny look so familiar?
A thrilling suspense filled with dark family secrets, popularity contests, and deception.