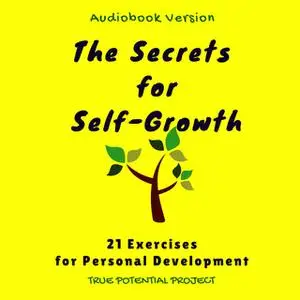 «The Secrets for Self-Growth, 21 Exercises for Personal Development» by 21 Exercises
English | ISBN: 9781982713171 | MP3@64 kbps | 1h 26m | 39.6 MB
This Personal Development Workbook contains clever exercises and step-by-step plans you won't find anywhere else. A book full of Secrets For Self-Growth, inspired by mentors from ancient China to the finest thinkers of modern time. Recommended on Bookauthority, as one of the best Personal Development books to read in 2018.
There is a rat race of self-help going on. But where to start or how to advance? We've created this workbook to let your deal with life in a more carefree way. No unrealistic promises or condescending information. We have searched for the best advice and most daunting secrets in both personal and spiritual growth. Our journey has resulted in a Personal Development Workbook with 21 Exercises essential for Self-Growth. We believe that everyone has their own journey. These Secrets For Self-Growth will help you guide your way through difficult times onward to a grateful life of success, peace and happiness.
This Personal Development Workbook contains 21 Exercises focusing on:
How to create a spiritual connection with your Higher Self
How to gain financial advancement by an abundance mindset
How to interchange bad habits for efficient and successful habits
How to deal with long lost dreams and big regrets
Self-Development tools and step by step plans, you won't find anywhere else
And much more.