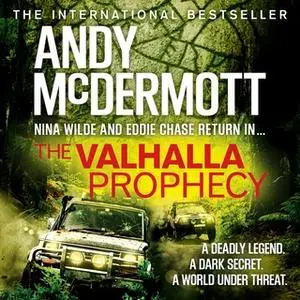 «The Valhalla Prophecy (Wilde/Chase 9)» by Andy McDermott
English | ISBN: 9780755390571 | MP3@64 kbps | 15h 54m | 436.8 MB
The ultimate duo – Nina Wilde and Eddie Chase – return in their ninth action-packed adventure.
Secrets from the past emerge to threaten archaeologist Nina Wilde and her husband, former SAS soldier Eddie Chase, when a Viking runestone is stolen by a murderous gang of raiders. The stone holds the key to an ancient evil concealed in one of Norse mythology's holiest places: Valhalla.
Travelling to Sweden, Eddie and Nina find themselves in a race against time to locate the legendary hall of the Viking warriors – before rival powers claim its deadly contents for themselves. It is a quest that will force Eddie to revisit a dark chapter from his mercenary days that he has kept hidden from everyone…including his wife.
Only Nina and Eddie can prevent the unleashing of a primordial terror from the depths of the earth. But even if they succeed, will the cost be greater than either of them could have ever imagined…
(P)2014 Headline Digital