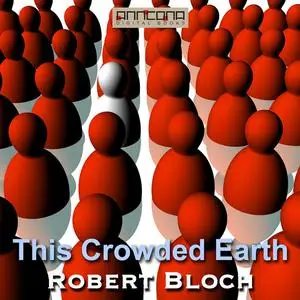 «This Crowded Earth» by Robert Bloch
English | MP3@192 kbps | 3h 31m | 290.1 MB
This Crowded Earth is a science fiction thriller novel by American author Robert Bloch. 
This Crowded Earth is set on an overpopulated Earth of the future.
In the future science has banished war and there's enough food to support everyone. Huge populations are living in megalopolises eating manufactured food.
A frighteningly possible future world as seen through the strange and demonic imagination of Robert Bloch.
This Crowded Earth was first published in 1958.
Total Running Time (TRT): 3 hours, 35 min. Reading by Gregg Margarite.
Robert Albert Bloch (1917-1994) was an American fiction writer, primarily of crime, horror, fantasy and science fiction. He is best known as the writer of Psycho, the basis for the film of the same name by Alfred Hitchcock. He won the Hugo Award (for his story That Hell-Bound Train), the Bram Stoker Award, and the World Fantasy Award. His work has been extensively adapted for the movies and television, comics and audio books.
Bloch wrote hundreds of short stories and over 30 novels. He was one of the youngest members of the Lovecraft Circle. H. P. Lovecraft was Bloch's mentor and one of the first to seriously encourage his talent. Bloch was a contributor to pulp magazines such as Weird Tales in his early career, and was also a prolific screenwriter and a major contributor to science fiction fanzines and fandom in general.