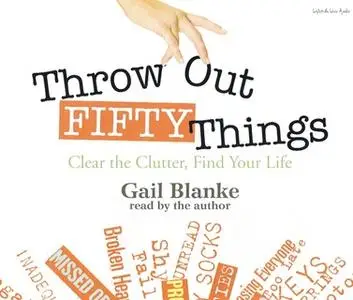 «Throw Out Fifty Things» by Gail Blanke
English | ISBN: 9781593164348 | MP3@64 kbps | 3h 35m | 98.6 MB
'Throw Out Fifty Things' is truly an eye opener. According to Blanke, our lives are so filled with junk from the past from dries up tubes of crazy glue to old grudges that it's a wonder we can get up in the morning, never mind get to work, care for our children and parents, and just put one foot in front of the other. Blanke wants to start a movement across America of people throwing out fifty things (magazines count as only one!) that will help liberate us from the stuff both physical and mental that clutters our lives. It's the physical stuff that keeps us from being happy and calm in our house not to mention keeps us from finding our keys in the morning! And it's the clutter in our mind that drags us down and holds us back from living the life we want to live. Blanke takes us through each room in the house and helps us get rid of 'toxic' possessions that remind us of failed relationships, bad jobs, etc., then she'll help us figure out what to keep so we can move forward and find out who we really are!