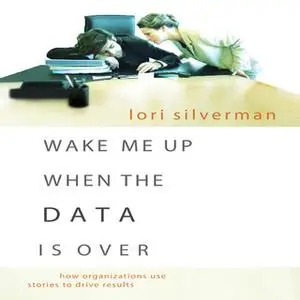 «Wake Me Up When the Data is Over: How Organizations Use Storytelling to Drive Results» by Lori Silverman
English | ISBN: 9781596599000 | MP3@64 kbps | 8h 44m | 240.2 MB
Do you wish you could more fully engage your employees? Or reduce turnover by 25% or more? Do you need to quickly align staff around your organization's long-term strategy? Or achieve double-digit growth? Then this groundbreaking audiobook is for you.
Wake Me Up When the Data Is Over includes real-life examples from over 70 respected organizations, small and large, representing a multitude of industries, using stories to drive results.
Leaders from organizations such as Microsoft, Land's End, Verizon, the U.S. Air Force, and World Vision demonstrate the strong positive influence stories can have.
No abstract theories or platitudes are conveyed here. Hear how Kevin Roberts, CEO worldwide of Saatchi & Saatchi, achieved sustained sales growth after several mergers and downsizings caused the organization to fall on hard times. Learn how Erik Shaw, president and CEO of the FivePoint Federal Credit Union, overcame resistance to an organizational name change, resulting in membership growth exceeding the national average.
With this practical guide, you'll learn how stories can be used to:
Get employees to take action
Accelerate knowledge acquisition and organizational change
Solidify individual and team working relationships
Provide exceptional customer service
Increase the visibility of your organization
Drawing on interviews with 171 public- and private-sector leaders, this audiobook goes beyond storytelling to reveal five keys to making stories work for you: how to find existing stories; dig into them to uncover hidden patterns and themes; select those stories that need to be reinforced; craft memorable stories; and embody stories to positively impact people's attitudes, thoughts, and behaviors. It also includes proven tools and techniques that will help you sharpen these skills.