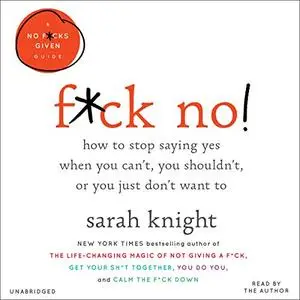 F*ck No!: How to Stop Saying Yes When You Can't, You Shouldn't, or You Just Don't Want To [Audiobook]
English | December 31, 2019 | ASIN: B07TKF982T | MP3@64 kbps | 5h 37m | 151.68 MB
Sarah Knight (Author, Narrator)
With two million copies sold worldwide, Sarah Knight's best-selling No F*cks Given Guides prove that she's the Queen of No: no to a single extraneous f–k given, no to unwanted obligations, no to the boring corporate job you wish you'd left years ago.
For Sarah, saying no is easy. But for the rest of us, it's stress-inducing, blood pressure-raising, teeth-grinding hard. And it doesn't have to be. You can say no to doing things you don't want to do - and you can do it all without being selfish, unlikable, or missing out. With F*ck No!, listeners will learn how, and more importantly, when and why to say no.
Filled with concrete examples drawn from work, love, family, friendship, and everything in between, and told with the irreverent wit that Sarah's listeners love, F*ck No! will help you "nope" your way to the life you want.