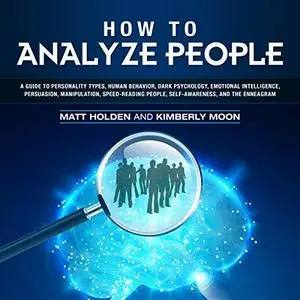 How to Analyze People: A Guide to Personality Types, Human Behavior, Dark Psychology, Emotional Intelligence, Persuasion, Manipulation, Speed-Reading People, Self-Awareness, and the Enneagram [Audiobook]
English | April 17, 2019 | ASIN: B07QMVN14G | MP3@64 kbps | 6h 24m | 167.62 MB
Author: Matt Holden, Kimberly Moon
Narrator: Rhett Samuel Price
If you've always wanted to learn more about yourself and discover how to analyze people, then pay attention.
Two manuscripts in one audiobook:
How to Analyze People: Unlocking the Secrets of Personality Types, Body Language, The Dark Psychology of Human Behavior, Emotional Intelligence, Persuasion, Manipulation, and Speed-Reading People
Enneagram: An Essential Guide to Unlocking the 9 Personality Types to Increase Your Self-Awareness and Understand Other Personalities So You Can Build Better Relationships and Improve Communication
In part 1 of this audio book, you will learn about:
How we connect
The art of a category
Looking inward
Human body's language
What humans hold inside
Intelligence
To convince the mind
Two-Sided coin
The science of quick-slicing
What it all means, and, much much more!
Some of the topics covered in part 2 of this audio book include:
The unique and far-reaching history of the Enneagram of Personality
Exploration of personality types
Case examples for comparison
Ways to interpret your and others' types
Communication styles of each of the types
How to improve your communication
How to use the Enneagram to build better relationships
Self-awareness and personality
Why we are the way we are
Childhood development and personality
How to reach the authentic self
How to have acceptance and kindness for yourself and others
Info on the triads, wings, and variants
Spiritual grounding in the Enneagram
Methods for solving problems
Coping skills, good and bad
Questions to ask yourself
Tips for self-realization, and much, much more
If you want to learn more about how to analyze people and the enneagram, listen to this book.