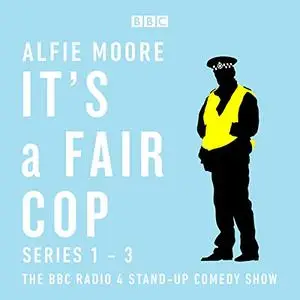 It's a Fair Cop: Series 1-3: The BBC Radio 4 Stand-up Comedy Show [Audiobook]
English | 28 June 2018 | ASIN: B07DRP84CR | MP3@64 kbps | 6h 0m | 165.23 MB
Alfie Moore (Author, Narrator)
Ever wondered what sort of a police officer you might make?
Alfie Moore spent 18 years on the Humberside police force before turning to stand-up comedy. In each episode of this live stand-up show, he takes his audience through a scenario based on a real-life case and tasks them with deciding how they would have acted in the circumstances.
From drink driving to a missing gnome, road traffic collisions to the tricky subject of Stop and Search, not to mention a case in which you must imagine what it would be like if Bruce Lee came from Scunthorpe and had been hammering the kebabs for 20 years….
Along the way Alfie spills the beans on what it's really like to be one of Britain's finest, tells us some great anecdotes about law breakers and makers that he's come across and gets his audience to divulge secrets about their own, sometimes less than strictly law-abiding lives.
Series 1
1: Duncan Driver
2: Peaceful Protest
3: Ethel's Day Out
Series 2
1: Gobby Nobby
2: An Englishman's Home
3: Trevor the Twoc'er
4: Spliffhanger (or Searching Question)
5: Help, I'm Being Harassed
6: Property Predicament
Series 3
1: Barry the Burglar
2: Punching Judy
3: Cedric the Gnome
4: Collision Decision