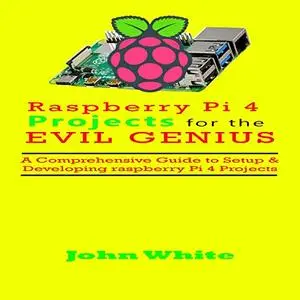 Raspberry Pi 4 Projects for the Evil Genius [Audiobook]
English | December 06, 2019 | ASIN: B082CVBH3N | M4B@125 kbps | 3h 41m | 201.01 MB
John White (Author, Publisher), Una McGruber (Narrator)
A comprehensive manual for Raspberry Pi 4 projects.
Raspberry Pi has long been the gold standard for inexpensive single-board computing, powering everything from robots to smart home devices to digital kiosks. The long-anticipated Raspberry Pi 4 takes Pi to another level. It offers performance that is good enough to use in a pinch as a desktop PC, plus the ability to output 4K video at 60 Hz or power dual monitors.
Raspberry Pi's applications are wildly diverse. In addition to the many common purposes it was designed to fulfill, the minicomputer has evolved to also perform more unusual tasks. To implement a Raspberry Pi project, users, sometimes, require a lot of preliminary knowledge, and sometimes, barely any.
With enough interest in the project, however, a lack of knowledge shouldn't be an obstacle at all. This guide contains amazing projects that will boost your productivity with the latest Raspberry Pi 4.