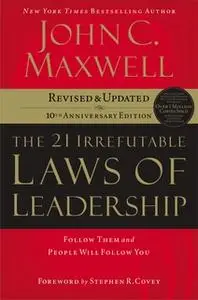 «the 21 Irrefutable Laws of Leadership» by John C. Maxwell
English | ISBN: 9781400204021 | MP3@64 kbps | 3h 34m | 98.3 MB
This unique Deluxe Audio Edition of the New York Times bestseller includes the unabridged audio book on three CDs; a highly designed, 24-page, 4-color booklet; and a fourth CD with a presentation in PowerPoint format that you can share with others on your team.
"Our nation and its institutions are crying out for leaders. John Maxwell… shows us the true path to leadership through the application of timeless principles supported by the bedrock of personal character." - Edward C. Emma, President & CEO, Jockey International, Inc.
"An irrefutable must-read on leadership that is a simple and powerful list of guidelines to help build leadership in many areas." - S. Truett Cathy, founder and chairman, Chick-fil-a, Inc.
"John Maxwell understands what it takes to be a leader, and he puts it within reach with The 21 Irrefutable Laws of Leadership. I recommend this to anyone who desires success at the highest level, whether on the ball field, in the boardroom, or from the pulpit." - Tom Landry, former head coach, Dallas Cowboys
"In typical Maxwell style, filled with wisdom, wit, and passion, John provides a wealth of practical insights on what it takes to be a successful leader." - Bill McCartney, founder & CEO, Promise Keepers
"The 21 Irrefutable Laws of Leadership is helpful and easy to read, yet profound in its depth and clarity. It's loaded with hope, direction, encouragement, and specific procedures." - Zig Ziglar, author and motivational teacher
"The ideas presented in The 21 Irrefutable Laws of Leadership are simple, clear, and easy to grasp- yet profound! It's an enjoyable, easy-to-read book that is educational yet entertaining. Whether you are a recent graduate just beginning your career, or a seasoned executive, this book is worth reading… and keeping at hand as a leadership reference guide." - Amy DiGeso, CEO, Mary Kay Inc.