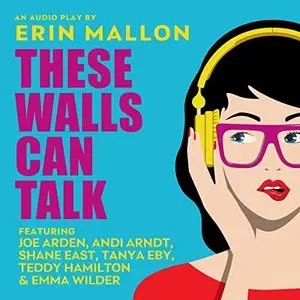 These Walls Can Talk: An Audio Play [Audiobook]
English | June 10, 2020 | ASIN: B089WHSJ4Z | M4B@62 kbps | 2h 7m | 57.97 MB
Erin Mallon (Author), Joe Arden (Narrator), Andi Arndt (Narrator), Shane East (Narrator), Tanya Eby (Narrator), Teddy Hamilton (Narrator), Emma Wilder (Narrator)
It's totally normal to fall in love with an audiobook narrator's voice, right?
Right.
Just ask Vera, who listens to "her" guy whenever and wherever she can: while driving, working, parenting, cooking, cleaning, showering…you name it.
But now, she's bringing him into the bedroom. And her husband is less than pleased.
These Walls Can Talk is a raucous and heartfelt love letter to romance audiobooks: the authors who write them, the narrators and engineers who record them, and the passionate fans who devour them.