Emily's back for more delicious fun in this fast-paced sequel! Help her rescue her family's finances in five all-new themed restaurants! Use your earnings to purchase decorations, sure to make your customers smile. Emily's friends and family are on hand to help, but it's going to take your serving savvy to get Uncle Antonio back on track. Featuring two game modes, all-new customers, and hours of family fun, Delicious 2 Deluxe is just the thing to satisfy your craving for fun!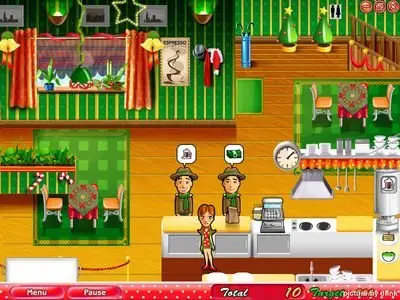 Roll up your sleeves for fast fun in this tantalizing restaurant challenge. Join Emily on her quest to make her dreams come true. Tasty treats may keep your customers happy, but it's going to take quick clicks and careful timing to get Emily's ambitions off the ground. Take a bite out of Delicious Deluxe today!
Features:
* seven restaurants
* two game modes
* bonuses like chocolate, bigger trays and stars
* five types of customers
Download
MD5: E7F962E9E3C47403FB298540CBF20B27
No Rapidshare Mirrors!
PS: If you like this game, why don't you try
Delicious 1 deluxe
or
Delicious 2 deluxe
?