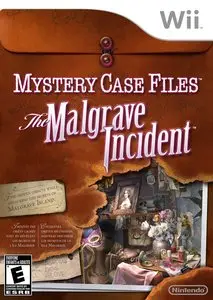 Mystery Case Files: The Malgrave Incident (2011/Wii)
English | USA | Developer: Big Fish Games | Publisher: Nintendo | 4.32 GB
Genre: Adventure, Puzzle, Hidden objects
Mystery Case Files: The Malgrave Incident brings the intrigue and sleuthing of Big Fish Games' Mystery Case Files series to the Wii system for the first time. The game transports players to the enigmatic Malgrave Island, where they must hunt for hidden objects and solve puzzles to collect a magically powerful dust scattered across the island. Anyone can delve quickly and easily into the game's rich seek-and-solve action, using the Wii Remote controller to examine multi-layered hidden-object scenes, locate cleverly concealed items and obtain inventory items that will help to overcome brain-teasing obstacles. Multiplayer features allow players to team up and crack the case together or face off in a competitive hunt for hidden objects.
Features
You be the detective™!
Mystery Case Files is on the the Wii console for the first time, pairing intuitive Wii Remote pointer controls with innovative hidden–object puzzles. Go into the scene, scrolling and searching through a puzzle with depth, in order to find items necessary to get past baffling obstacles and solve the island's long–buried mysteries.
Navigate the twists and turns of a gripping mystery.
Malgrave Island was thought abandoned for years, but Winston Malgrave, the mysterious curator, has requested help collecting a dust–like substance spread over the island — the key to the survival of his beloved Sarah. Finding hidden objects to uncover more dust is vital to progressing through the story, but progress only reveals even more mysteries of the island.
Hunt cooperatively with friends and family or challenge them in three exciting multiplayer modes
Need help finding hidden items? Other players can join the adventure at any time to help find the items. When you're ready for more challenge, take your friends on in three fun multiplayer modes that will test your eyes and reflexes as you try to earn the title of Master Detective (*Additional accessories required for multiplayer modes and are sold separately).
Mystery_Case_Files_The_Malgrave_Incident_USA_WII-PLAYME