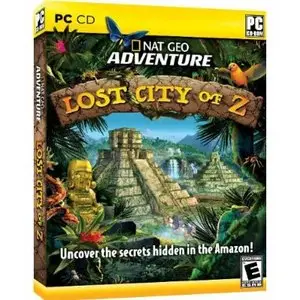 National Geographic Adventure Lost City Of Z-GOW
Release: 2009 | Platform: PC | Language: Eng | Size: 370 Mb
Genre: Hidden Object
Explore rainforest scenes and find clues to follow the trail of a missing National Geographic researcher, and discover the Lost City of the Amazon. Using the tools and clues you find along the way, trace the paths of explorers who searched for an ancient civilization. Decipher mysterious messages and uncover the trails of generations of explorers in your quest to find your sister. Will you be able to find the elusive City of the Amazon as well?
Key Game Features
* Follow the clues left by Colonel Fawcett to lead you through the mysterious rainforest.
* Play 5 exciting new mini-games to challenge clue solving skills.
* Watch thrilling footage from the National Geographic chronicle of the Lost City of Z as seen on TV.
* Take photographs of the beautiful scenes and wildlife around you and catalog them in your daily journal.
* Single player, hidden object mystery, point-and-click adventure.
* Educational and entertaining content and gameplay suitable for all ages.
System Requirements
OS: Windows XP, Vista
Processor: Pentium 800 MHz or faster processor
RAM: 512MB or more
Disc Drive: 2x or faster CD/DVD-ROM drive
Hard Drive: 159MB or more
DirectX: DirectX 8.0 compatibility
Input Device: Mouse and keyboard