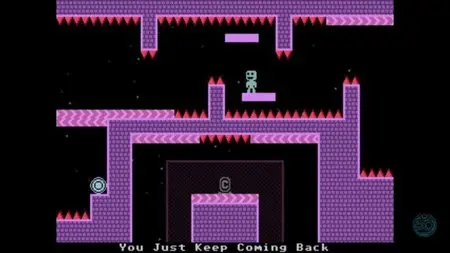 VVVVVV 2.01 [Intel] | Mac Os X | Games | 58 MB
Puzzle platformer
VVVVVV is an old-school ultra-sadistic challenge-based puzzle platformer. In VVVVVV, you're a spaceship captain whose ship and crew is dragged into a new dimension, leaving everyone stranded and separated. It's up to you, as their fearless leader, to venture through this strange new world to track them down and escape from this odd new place. With the power of teleportation and a tight control over gravity, you traverse an alien world to accomplish your task. VVVVVV is not a game about the value of human life. Because you're going to die, then you'll die again, and then you'll keep dying – but you'll learn to love it.
VVVVVV is a retro styled 2D platformer by Terry Cavanagh, creator of dozens of free games. You play as the fearless leader of a team of dimension exploring scientists who inadvertently crash, and are separated. The game involves exploring the strange world you've found yourself in, and reuniting your friends.
VVVVVV explores one simple game mechanic: you cannot jump - instead, you reverse your own gravity at the press of a button. The game focuses on playing with this mechanic in a variety of interesting ways.
The game is designed not to artificially gate your progress. In VVVVVV there are no locks, no power-ups, no switches, nothing to stop you progressing except the challenges themselves.