In Golf Resort Tycoon, you are in charge of running a golf resort. Added to the aspect of the golf course is the ability to run the restaurants, tennis and racquetball courts, guest accommodations, maintenance facilities, and more. Golf Resort Tycoon has virtually everything that you've ever seen at a golf resort built into it.
It's a fairly detailed simulation. While you're busy playing golf god, you'll be doing one of three major tasks: building golf course holes, building resort embellishments and building the resort infrastructure. The golf course tools allow construction of 3, 4, or 5 par holes. Customization of holes can include sand traps and water traps, and modifying landscape features such as slope, paving, and planting. Resort improvements range from rental and golf instruction to lodging, to resort activities such as tennis and racquetball. When you get
enough money, you can build a world class dining facility called Chez Crappe!
Infrastructure includes groundskeepers, pest control, first aid station and other amenities. And for the true control freaks out there, you can order each individual Sim worker or Sim player to do your wishes. Sim player playing too slow? Pluck him up and drop him off in the hotel for while.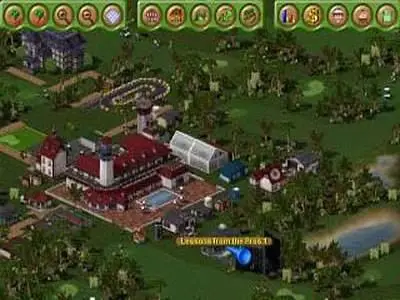 Requires:
Pentium III 450Mhz, 64MB RAM, 3D graphics card, 8x CD-ROM, 500MB of available hard disk space, DirectX 8.1
Download:
http://rapidshare.com/files/3076849/Bieffe_GAM4764452GRT2.part1.rar
http://rapidshare.com/files/3086586/Bieffe_GAM4764452GRT2.part2.rar
No password