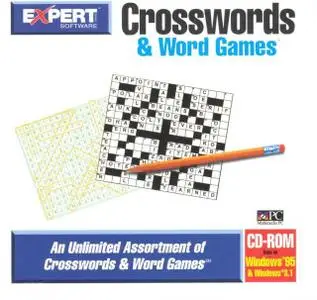 Crosswords & Word Games
Windows Game | 1995 | Expert Software Inc. | 9.75 MB
Crosswords & Word Games is composed of seven games.
Crosswords
150 Crossword Puzzles pulled from a variety of topics.
Telephone Scramble
Using the alphanumeric keys on a simulated telephone touch pad, unscramble famous names and more.
Crypto-mania
Decipher famous quotes and titles.
Word Search
Find words hidden in a grid of letters.
Word Match
Match the word to its definition.
Hangman
Fill in the blanks before the stick figure is hanged.
Word Scramble
Unscramble the anagrams to make familiar words.
Each puzzle comes with a ready made word list or can be customized with a user-made word list and printed out.