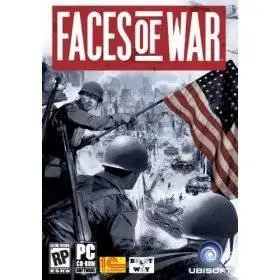 Faces of War
PC | 1.74 GB
In each mission of Faces of WarTM, players will be leading a squad of 6 soldiers in a full 3D environment. Through the decisive European battles of World War II, they will be in command of Allied, Soviet and German troops. With innovative new in-game features, two battles will never be fought the same way.
3D engine and advanced realistic physics allow complete freedom of tactical choices. With a free roaming camera and the addition of fully destructible environments, players will feel completely immersed in the reality of WWII.
Historical WWII campaigns with world-renowned battles including D-Day, winter missions and the storming of Berlin. The detailed reproduction of environments, military gear, vehicles and weapons underline the reality and intensity of the gameplay.
Complex artificial intelligence: soldiers won't simply execute any order given by players, they will think about how to do it in the most efficient and safe way.
Download
http://rapidshare.com/files/2579439/unl-fow.r00
http://rapidshare.com/files/2526491/unl-fow.r01
http://rapidshare.com/files/2526498/unl-fow.r02
http://rapidshare.com/files/2526543/unl-fow.r03
http://rapidshare.com/files/2526523/unl-fow.r04
http://rapidshare.com/files/2526494/unl-fow.r05
http://rapidshare.com/files/2526561/unl-fow.r06
http://rapidshare.com/files/2526556/unl-fow.r07
http://rapidshare.com/files/2526532/unl-fow.r08
http://rapidshare.com/files/2526550/unl-fow.r09
http://rapidshare.com/files/2526526/unl-fow.r10
http://rapidshare.com/files/2526581/unl-fow.r11
http://rapidshare.com/files/2526542/unl-fow.r12
http://rapidshare.com/files/2526604/unl-fow.r13
http://rapidshare.com/files/2526560/unl-fow.r14
http://rapidshare.com/files/2526540/unl-fow.r15
http://rapidshare.com/files/2526544/unl-fow.r16
http://rapidshare.com/files/2526570/unl-fow.r17
http://rapidshare.com/files/2526575/unl-fow.r18
http://rapidshare.com/files/2526566/unl-fow.r19
http://rapidshare.com/files/2526573/unl-fow.r20
http://rapidshare.com/files/2526565/unl-fow.r21
http://rapidshare.com/files/2526600/unl-fow.r22
http://rapidshare.com/files/2526545/unl-fow.r23
http://rapidshare.com/files/2526537/unl-fow.r24
http://rapidshare.com/files/2526528/unl-fow.r25
http://rapidshare.com/files/2526629/unl-fow.r26
http://rapidshare.com/files/2526608/unl-fow.r27
http://rapidshare.com/files/2526580/unl-fow.r28
http://rapidshare.com/files/2526567/unl-fow.r29
http://rapidshare.com/files/2526576/unl-fow.r30
http://rapidshare.com/files/2526602/unl-fow.r31
http://rapidshare.com/files/2526606/unl-fow.r32
http://rapidshare.com/files/2526616/unl-fow.r33
http://rapidshare.com/files/2526634/unl-fow.r34
http://rapidshare.com/files/2526578/unl-fow.r35
http://rapidshare.com/files/2526591/unl-fow.r36
http://rapidshare.com/files/2524574/unl-fow.r37
http://rapidshare.com/files/2526593/unl-fow.rar