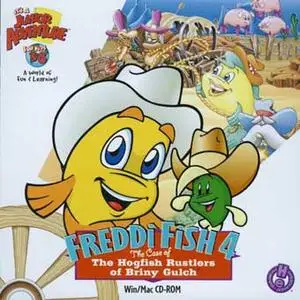 Freddi Fish 4 - Case of Hogfish Rustlers of Briny Gulch
PC | Children's Adventure Game | 140 Mb (60 + 60 +20 Mb WinRar) | English
An adventure game for children, aged 3-8, featuring Humoungous.com's Freddi Fish and his pal Luther
Original description:
Freddi Fish and Luther are saddling up for the Wild West. Cousin Calico's prize-winning hogfish have been fiendishly fishnapped by some hogfish rustlers. Freddi Fish and Luther resolve to find the rustler's hideout, rescue the hogfish, wrangle those rustlers, and discover the identity of the mysterious Mr. Big. Kids help Freddi and Luther bring justice to Briny Gulch as they explore exciting Wild West locations, investigate clues, and meet new characters.
Main game only, demos removed.