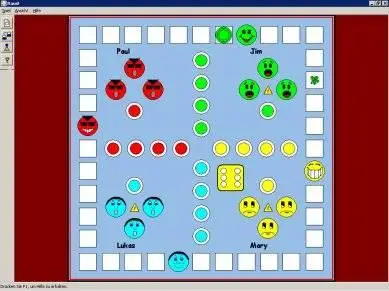 GetOut! ver. 1.71.0 | 1,74 Mb
Up to 4 player can play in a network (TCP/IP) against each other, or stand alone against the computer. Funny pixel graphics, sound, a lot of properties, and high play strength. Excitement and fun for young and old. The object of the game is to get around the board and back to your home section. If you land on another player's piece, you send them back to the start.
Features:
Internet/Network support (TCP/IP) for up to 4 player.
32 bit-version for Windows 9x/ME/NT/2000/XP.
Sound feedback in english, german or spain.
Program language in english, german or spain.
A lot of boards and properties.
Easy control by mouse or keyboard.
Automated update checking and download
Save/Load games
Human or computer opponent
Advanced multi-threaded architecture
Resizable/Configurable playing board
Context sensitive help (F1 key)
Game board remembers size, position and other appearance parameters
http://rapidshare.de/files/35589564/go171.rar
pass: –-''–-