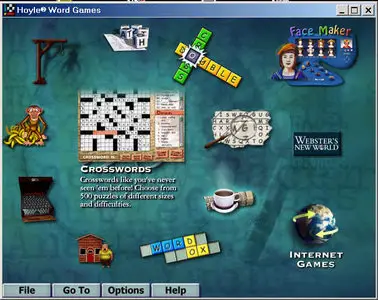 Hoyle Word Games v.1 | 119.12 Mb
Publisher: Sierra | 2001 | English | EXE
Hoyle Word Games features 9 word games with hundreds of variations. Choose from Anagrams, DoubleCross, Enigma, Hangman, Speedy Racer, Wordox, Word Yacht, and over 1000 Crosswords and Word Searches from Dell Magazines. Challenge the Hoyle animated cast of characters and adjusts their attitudes to your liking.

HARDWARE REQUIREMENTS REQUIRED:
Pentium PC 133 or higher
Windows 95, 98, 2000 or XP
16 MB RAM
4x CD-ROM
640x480 @ 16-bit Color
165MB Hard Disk Space
RECOMMENDED FOR BEST PERFORMANCE:
Pentium II PC
Windows 98 or newer
32 MB RAM
4x CD-ROM
640x480 @ True Color
165MB Hard Disk Space
INSTALLATION PROCEDURE:
No installation required. Unpack and run Hoyle Word Games.exe

WARNING: FACEMAKER DOES NOT WORK!