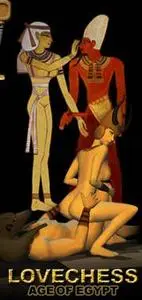 Game Information: Enter the Age of Egypt, an era where strange gods like Hathor, Anubis and Horus ruled the realm of mankind. These godly creatures, partly animal, bring a whole new dimension to the Lovechess concept. Lovechess : Age of egypt is not just an aesthetic improvement of the previous version. We rewrote the game from ground up and added a lot of features, some bigger and some smaller, to this exiting game.
Lovechess Age of Egypt features:
Advanced 3D sex animations system with diverse and interesting variations.
Different sceneries, each with their own unique atmosphere.
Multiplayer gamemodes.
Play Lovechess online or through LAN against a human opponent.
A beautiful 3D Egyptian scenery with hand painted erotic art and realistic characters.
New and improved Chess-engine, to challenge both beginning as expert players.
System Requirements:
Supported OS: Windows(r) 2000 | XP
Processor: Pentium(r) IV 1.4GHz or AMD Athlon 1.4GHz
Ram: 256 MB (512 Recommended)
Video Card: 3D Hardware accelerator Card Required -
100% DirectX 9.0c compatible, 64Mb.
Minimum Screen Resolution: 1024x768
Sound Card: DirectX(r) 9 sound device
DirectX(r) Version: DirectX 9
Multiplayer: 56Kbps or better for Internet or
LAN play (broadband recommended)
Download:
http://url2share.com/a85mw